White Pines Lake
White Pines Lake is a quiet little lake, well known to local residents, but often overlooked by visitors scurrying up to Big Trees State Park or Lake Alpine. Only a mile from Arnold, the lake makes a great family destination for fishing, picnicking, or just taking the kids to a playground. For hikers, mountain bikers, and equestrians, the new Arnold Rim Trail leads south from the lake 10.5 miles to Sheep Ranch Road near Avery.
The area around White Pines Lake was originally a lumber mill. After the mill was closed a dam was put in and a lake established with thoughts of selling lots around the lake. When the plan fell through , the lake and surrounding property were sold to the Calaveras Water District.
The Sierra Nevada Logging Museum on the western shore of White Pines Lake draws hundreds of visitors every year. Across its six acres are spread many of the old machines used in logging in Calaveras County. Indoors are other displays recounting the history of logging. See more about it below.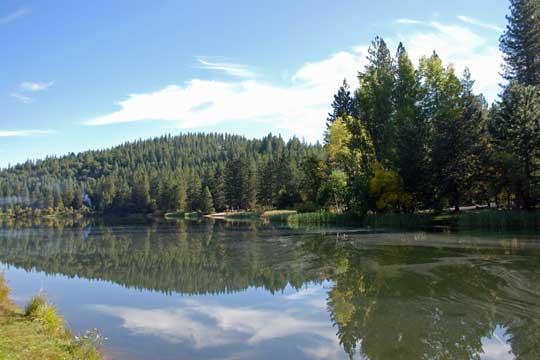 Upcoming Events at White Pines
Heroes Fun Run - May 30, 2015
Calaveras Door of Hope is hosting a Fun Run on May 30, 2015. The Heroes Fun Run will be located at White Pines Park in Arnold. The run offers three options to participate: a 5k run, 12k run, or a 2 mile walk. There will also be a party in the park with a silent auction, raffle prizes, and food vendors, including Round Table Pizza for both a full breakfast and pizza lunch, as well as the Connections Café Coffee cart.
The 5/12k run will start at 7:30 a.m. (registration at 6:45 a.m.); while the 2 mile walk will begin at 10:00 a.m. (registration at 9:00 a.m.). 100% of funds raised will go to the non-profit organization Calaveras Door of Hope.
Registration available now at: www.fundeasy.com/e/8687
Parks and Playgrounds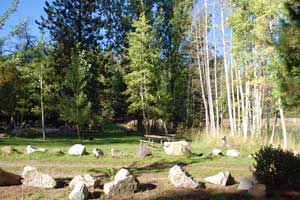 White Pines Community Park is spread among the trees along the shore of White Pines Lake. The park has picnic tables and BBQs, meandering paths, a playground, a group area, a beach, and a softball field.
Across the road from the park is Hazel Fischer Elementary School and up Blagen Road toward Arnold is Independence Hall. Near the hall is Linebaugh Park.
The Arnold Rim Trail
The Arnold Rim Trail currently runs from White Pines Lake west to Sheep Ranch Road near Avery. This 10.5-mile section of trail is only the first of what is proposed to be a 35-mile trail connecting with Calaveras Big Trees State Park. The trail is open to hikers, mountain bikers, and equestrians.
The Arnold Rim Trail generally follows San Antonio Creek, crossing from its north side to the south about 2.5 south of White Pines Lake. Along its course the trail passes locations such as Penny Pines, Cougar Rock, and the San Antonio Falls overlook.
The trail was created as a collaboration among volunteers in the Arnold Rim Trail Association, other community volunteers, Calaveras County, and Forest Service agencies. The trail was built with volunteer labor. The route is marked with signs and also has several interpretive kiosks.
Maps of the trail can be picked up at the Forest Service station in Hathaway Pines. For more information about the trail, visit Arnold Rim Trail

Fishing
White Pines Lake is a nice place to spend a restful day fishing. No motorized boats are allowed on the lake, but little hand-launched fishing boats, float tubes, canoes, and kayaks are perfect for the small lake. The lake is home to both trout and bass. Among the best places for bass fishing in the lake is around the tulles. Snag-proof frogs work well there.
Ebbetts Pass Sporting Goods in Arnold is a great place for advice on what baits and lures are working best. They can supply you with everything you need for a great day of fishing. Among the baits they often recommend are floating Power Eggs, Gulp Nightcrawlers, Gulp Eggs, new Salmon Egg scented power bait, new Garlic scented Power Bait, Gulp Power Bait, salmon eggs, and nightcrawlers. Spin casters at the lake are reporting good success with Rooster Tails, Super Dupers, and Panther Martins.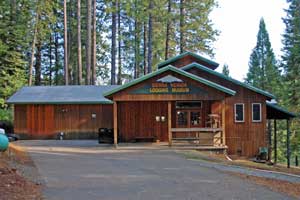 Sierra Nevada
Logging Museum
The Sierra Nevada Logging Museum is open from Noon until 4:00 PM on Thursdays through Sundays, beginning April 1 and continuing until about the first of December. Admission is free.
The museum opened in 2005 after years of planning, fund raising, and organizing by the Friends of the Logging Museum and others in the community.
The 2400-square foot museum building contains exhibits which convey the history of logging and the lumbering industry in the Sierra Nevada.
Around the grounds is an array of fascinating logging machines, from a 66,000 pound steam donkey to a Shay locomotive. Visitors can also view crawler tractors, logging arches, a logging cabin, and various saws.
Every year on Labor Day weekend a Jamboree is held at the museum with competitions in events such as axe throwing, single bucking, choker setting, and Jack and Jill bucking.
For more information, see Sierra Nevada Logging Museum.