A Scenic Drive Over Ebbetts Pass
Enjoy the Ebbetts Pass Scenery
Known as the Ebbetts Pass Scenic Byway, the drive over the pass on Highway 4 is an experience you won't forget. Spring, summer, or fall - the trip is different in every season. Be sure to fill up with gas and pack a picnic lunch and a camera. On your way up from the west side, take time to drive out to Spicer Meadow Reservoir, Bear Valley, and Highland Lakes.
When you begin your descent on the eastern side of the pass, the scenery changes dramatically. Oddly-shaped volcanic peaks appear along the skyline, and the road narrows, twisting and curling down the mountain. Some of the hair-pin turns can be a little unsettling, but if you take them slowly, there is no danger. Then at last you slip out into the long valley carved by Silver Creek, where once a thriving mining community stood. Farther on you arrive at the beautiful East Carson River and the quaint town of Markleeville. You can do it in a day, or a week, depending how long you want to linger along the way.
Ebbetts Pass Camping
Campgrounds are available all along the Ebbetts Pass scenic highway, from Calaveras Big Trees State Park, up through Lake Alpine and Ebbetts Pass, and on across the pass to the east in Markleeville. Some of the campgrounds accept reservations, but most are first-come, first served. The more popular sites such as Lake Alpine tend to fill up on summer weekends, but once you know about nearby alternative campgrounds, you can usually find a nice place to pitch your tent.
Calaveras Big Trees State Park draws a lot of campers, but just a short distance up the highway and down a side road to the Stanislaus River is Wakaluu Hep Yoo Campground with spacious sites, plenty of shade, and the rush of a wild river at your doorstep.
Lake Alpine is another popular summer destination. Since there are no reservations there, timing your arrival is important on busy weekends. If the lake sites are full, try places like Big Meadow or Pacific Valley.
Many areas of the Stanislaus National Forest are open to Dispersed Camping. You simply select a spot in the forest, away from developed camping areas like Lake Alpine, and park your RV or set up your tent. Likely you'll need to bring your own water. Fire permits are required for campfires. But everything is free.
Ebbetts Pass Recreation
Skiing, Snowboarding, and Playing in the Snow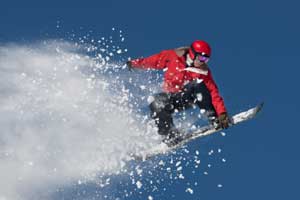 Bear Valley Mountain Ski Area near Bear Valley is a great ski resort for both beginners and experts. Unlike the Tahoe resorts, Bear Valley Mountain rarely has huge crowds. Multiple lifts offer a wide variety of runs.
For those who prefer cross-country skiing, the Bear Valley Cross Country ski area is located directly across the highway from the entrance to Bear Valley. Or set out on your own along any of the hundreds of logging roads that extend away from Highway 4. Snowmobilers like to head out to the Sno-Parks and then explore the miles of groomed roads and open country. For playing in the snow you find turnouts along Highway 4 where little hills make perfect winter playgrounds. A vacation rental cabin makes a great base for families or groups who want to spend time at Bear Valley Mountain or just hang around the cabin.
Boating

There are no waterskiing and wakeboarding lakes around Ebbetts Pass and Highway 4. Those looking for the best recreation lakes for boating and water sports should visit our sister website California's Greatest Lakes. There you'll find information about New Melones Lake and a host of other nearby lakes.
Fishing
Anglers take to the Ebbetts Pass region to fish waters often neglected by other fishermen. The rivers and creeks offer countless opportunities for fishing. Those who prefer the lakes find a host of great lakes with good fishing from shore or a boat. Among the most popular are Spicer, Union and Utica Reservoirs, Lake Alpine, Mosquito Lakes, Highland Lakes, and Kinney Lakes.
Backpacking, Day Hikes, Bicycling, and Mountain Biking
Ebbetts Pass draws visitors interested in a variety of pursuits. Backpackers set off into the Carson-Iceberg Wilderness while day hikers find a multitude of rewarding trails from simple strolls in Calaveras Big Trees State Park to round-the-lake hikes at Lake Alpine. While Ebbetts Pass is known for its part in cycling's challenging Death Ride, many other places along the highway offer much gentler routes. Mountain Bikers find thrills everywhere, along logging roads and single tracks.
Horseback Riding and Everything Else
Horseback riding is popular all around Ebbetts Pass. Equestrian trailheads between Arnold and the summit of the pass draw riders from around the area. Bird watchers have sited hundreds of species of birds along the trails all up and down the pass. Cavers enjoy the cool depths of Mercer Caverns, California Caverns, and Moaning Cavern. Kayakers and rafters tackle the challenging waters of the North Fork of the Stanislaus. Flat-water kayakers love the serenity of Union and Spicer reservoirs and Lake Alpine.
Other Sierra Passes - Other Adventures
Sonora Pass

A few miles to the south is beautiful Sonora Pass (Highway 108) with Dodge Ridge Ski Resort, Pinecrest Lake, Kennedy Meadows, and dozens of other great destinations and recreation opportunities. Take a look at another of our sister websites, Sonora Pass Vacations.
Carson Pass

Only a few miles to the north, Carson Pass (Highway 4) offers mountain lakes like Silver Lake and Caples Lake, winter skiing at Kirkwood, great camping sites, and a host of other outdoor recreation opportunities. You may want to consider looking through our sister website Up and Over Carson Pass.
Nearby in the San Joaquin Valley
Stockton

Only a few miles to the west in the San Joaquin Valley spreads the city of Stockton, home to beautiful shaded parks, professional sports, the Stockton waterfront, art and music, the University of the Pacific and Delta College, the Stockton Civic Theatre's amazing stage productions, and so much more. Discover it all on our sister website Stockton Treasures.