Forest Service Ranger Districts
The Ebbetts Pass corridor passes through the Stanislaus National Forest on the west slope and the Humboldt-Toiyabe National Forest on the east. Each national forest then is subdivided into ranger districts. On the west side of the pass is the Calaveras Ranger District while on the east side is the Carson Ranger District.
Stanislaus National Forest Offices
Calaveras Ranger District Office
5519 Highway 4, Hathaway Pines, CA 95233
(209) 795-1381
Summer Hours: (May - October) M-F: 8:00 AM to 5:00 PM, Sat: 8:00 AM to 2:00 PM
Winter Hours: (November - April) M-F: 8:00 AM to 4:30 PM, Sat: 8:30 AM to 2:00 PM
Stanislaus National Forest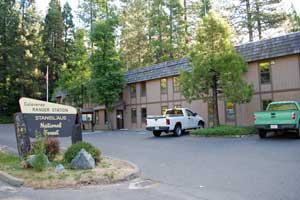 Campfire Permits and Wilderness Permits are available here.
The Three Forests interpretive Association sells interpretive books, forest maps and visitor materials at Stanislaus National Forest offices. Selections include trail guides, natural history and nature guides, and books on local history.
Among the maps they sell are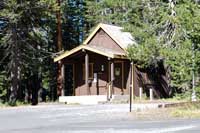 Alpine Ranger Station
Stanislaus National Forest Map
Interface Vehicle Restrictions Map - covers area north of Arnold and Avery around the Arnold Rim Trail
Carson-Iceberg Wilderness Map
Carson-Iceberg Trail Distances Map
Emigrant Wilderness Map
Emigrant Wilderness Trail Distances Map
Mokelumne Wilderness Map
The Forest Service maintains tiny Alpine Ranger Station along Highway 4 between Bear Valley and Lake Alpine. The office is open seasonally. It is the starting point for interpretive hikes offered in the summer at Lake Alpine.
Humboldt-Toiyabe National Forest Offices
Carson Ranger District Office
1536 South Carson Street, Carson City, NV 89701
(775) 882-2766
Humboldt-Toiyabe National Forest
Hours: Monday - Friday, 8:00 AM - 4:30 PM
The Carson Ranger District offers a large selection of books and maps for purchase. They carry over 50 different Forest Service, Wilderness, USGS 7.5 Topographic and Recreational maps. There is also an excellent selection of guide books available on such topics as hiking, fishing, off-highway routes, ghost town exploration, birds, plants, flowers, trees, geology and local history. The Eastern Sierra Interpretive Association supplies all the products sold at the Carson Ranger District.
Bridgeport Ranger District Office
Highway 395, ½ mile south of Bridgeport, CA
(760) 932-7070
Hours: 8:00 AM to 4:30 PM - winter Monday through Friday ; summer, seven days a week