Playing in the Snow
Young and old alike enjoy the sport of playing in the snow, whether it is careening in a saucer down a banked mountain course, making snow angles in fresh powder, or crafting a giant snowman. For many who have rented cabins above the snowline, the best place to frolic in the snow is right outside your back door. For those who drive up from below, however, finding a safe place for children to play can sometimes be a challenge.
We've got a few suggestions here - some places better known than others.
Try the Sno-Parks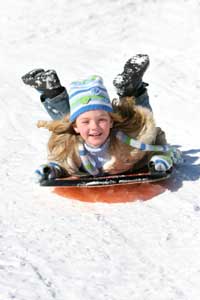 There are two Sno-Parks on Highway 4, one at the Spicer Meadow Road turnoff and the other at the end of the plowed highway near Lake Alpine. Sno-Parks have two big advantages over other spots along the highway - toilets and parking.
Sno-Parks are parking areas maintained in the winter to allow people to park safely and pursue winter activities such as cross-county skiing or snowmobiling. They have pit toilets available. To use a Sno-Park you must have a permit. You can purchase a day permit for $5 or an annual pass (Nov. 1 - May 30) for $25. They are good at any California Sno-Park.
Passes can be purchased at Ebbetts Pass Sporting Goods or Sierra Nevada Adventure Co. in Arnold. In Bear Valley purchase your pass at Bear Valley Cross Country or Bear Valley Snowmobile. Permits may also be purchased online for an additional $1.95 at
Sno-Park Permits.
Lake Alpine and Spicer Sno-Parks
Both the Spicer Reservoir Road and the Lake Alpine Sno-Parks have good places nearby for children to play, including some gentle slopes for sledding. Spicer might have the advantage because the parking is in an actual lot instead of along the side of the road at Lake Alpine. Also Spicer is less crowded.
Bear Valley Cross Country Children's Sliding Hill
Bear Valley Cross Country, known as Bear Valley Adventure Company in the summer, has sledding and tubing hills near its cross country ski trails. The hills range from gentle to moderate and are available for anyone ages 3 and older. You will find the area directly across the highway from the entrance to Bear Valley Village.
Only equipment rented from Bear Valley Cross Country may be used on the hills. This has several advantages: 1) You don't need to haul bulky sleds in your car and blow up inner tubes. 2) Because only light weight sleds and tubes are rented there, no one will be plowing into you with an old-fashion, heavy, wooden toboggan.
Sled Rental: $11 per person
Tube Rental: $16 per person
Non-Sledding Access to the Area: $2
Children must be accompanied by a parent or guardian.
Hours: 9:00 AM - 4:00 PM
(209) 753-2834
Bear Valley Cross Country
Find Your Own Snow Play Area
After roads have been plowed, many small turnouts become available that give access to some nice snow play areas. Be sure to park completely off the highway. Few of these places have restrooms nearby.
Calaveras Big Trees State Park
Sleds, toboggans, tubes, disks, and such are now allowed Calaveras Big Trees State Park. The parks asks that you please use common sense and keep speeds slow for safety's sake. ($10 entrance fee)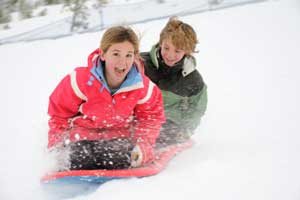 Across from the Fire Station at Big Trees Village
This area draws lots of sledders because there is a long turnout there where you can park and a passable hill for sliding. Trees and other obstacles can make it a challenge. The nearest restrooms and food are at Camp Connell, 1 mile west.
Forest Road 6N58
To find this spot drive 2.8 miles east from Camp Connell (or 1 mile east of Meko Dr.) to an intersection with forest roads on either side of the highway. Park in a plowed out area on either side. The slope on the north side of the highway is very gradual but it may satisfy younger children. For a more exciting hill, walk up a 100 feet to a T intersection and turn left. One quarter mile down the road is a good hill.
Black Springs Road
Drive 7 miles east of Camp Connell to the Black Springs Road turnoff. There is a hill that curves down toward the highway. Farther up Black Springs Road are other places for snow play away from the highway.
Big Meadows
Big Meadows is a good place for snowball fights and snowmen, but it is hard to find a good sliding hill there.
Tamarack Lodge
Guests at Tamarack Lodge have access to a sledding hill.
Snow Play on Sonora Pass and Carson Pass
Sonora Pass

To the south on Sonora Pass is Leland High Sierra Snow-Play area, a developed sliding hill complete with a lodge, sliding equipment, and even lifts. All the information is on Sonora Pass Vacations.
Carson Pass

To the north on Carson Pass are four Sno-Parks and lots of little hills just right for sliding. Visit our sister website, Up and Over Carson Pass.