Cross Country Skiing
With its heavy snowfalls, the Ebbetts Pass area is a Nordic skiers paradise. Legendary Snowshoe Thompson forged cross country trails over the mountains here during the Gold Rush era. Today Nordic trails lead off in a multitude of directions. For those who prefer groomed roads, Spicer Reservoir Road and Highway 4 above Lake Alpine are great destinations. You will share these routes with snowmobilers. If you prefer groomed ski trails, the Bear Valley Cross Country Ski Area has miles of groomed trails along with cozy warming huts.
For the more adventurous who don't mind breaking trail, there are miles of logging roads to be explored by cross country skiers and snowshoers. And skiing or snowshoeing through the North Grove at Calaveras Big Trees State Park in the winter is an experience you will never forget.
Groomed Roads and Sno-Parks
Sno-Parks are parking areas maintained in the winter to allow people to park safely and pursue winter activities such as cross-county skiing or snowmobiling. They have pit toilets available. To use a Sno-Park you must have a permit. You can purchase a day permit for $5 or an annual pass (Nov. 1 - May 30) for $25. They are good at any California Sno-Park.
Passes can be purchased at Ebbetts Pass Sporting Goods in Arnold, Sierra Nevada Adventure Co. in Arnold. In Bear Valley purchase your pass at Bear Valley Cross Country or Bear Valley Snowmobile. Permits may also be purchased online for an additional $1.95 at
Sno-Park Permits. Overnight parking is allowed unless posted otherwise. Vehicles parked overnight need to be staked at all 4 corners with 1x2 inch by 8-foot poles to prevent accidental damage by snow removal equipment.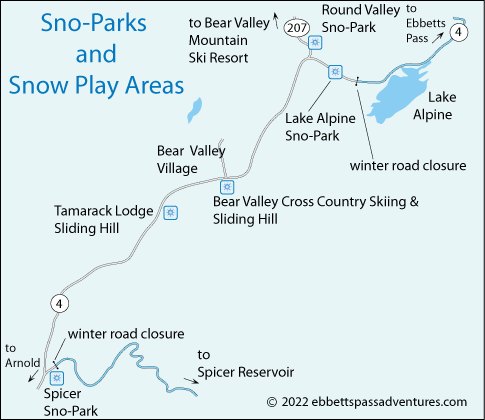 Spicer Reservoir Road Sno-Park and Ski Trails
The Sno-Park is on Spicer Road just a quarter mile from Highway 4. Suggested activities there are cross-country skiing, snow shoeing, dog sledding, snow play, and snowmobiling. The groomed route follows the roads to Union and Utica reservoirs, Summit and Elephant Rock lakes, or the Spicer Reservoir Power House. Very experienced cross country skiers or snowshoers may try the un-groomed route along Slick Rock Road to access Lake Alpine. For a map of the area, see
Spicer Meadow Reservoir Area
Lake Alpine Sno-Park and Ski Trails
The Lake Alpine Sno-Park is at the end of the plowed section of Highway 4 near Lake Alpine. Upgrades for 2016 include an unloading area for snowmobiles, new restrooms, and a new parking area. Suggested activities there are cross-country skiing, snow shoeing, dog sledding, snow play, and snowmobiling. The road is groomed up to Ebbetts Pass. This route is very popular with snowmobilers on weekends. The trip to Lake Alpine begins with a gradual downhill slope that might prove challenging to beginning skiers. Beyond Lake Alpine the road climbs for several miles up to Mosquito Lakes.
Bear Valley Cross Country Skiing and Snowshoeing
Bear Valley Cross Country, known as Bear Valley Adventure Company in the summer, maintains a trail system which spreads over 3,000 acres in the meadow and hills across the highway from Bear Valley Village. Trails are groomed for track and skate skiing and snowshoeing.
Bear Valley Cross Country Trail Map
Besides the trails, they have a rental and demo facility, trailside warming huts, a waxing hut, kids' trails, a groomed downhill practice hill and a sledding and tubing area.
Hours: 9:00 AM - 4:30 PM
(209) 753-2834
Bear Valley Cross Country
Bear Valley Cross Country Trail Pass Prices for 2018-2019
| Age | 1 Day | 2 Day | 3 Day | Season Pass |
| --- | --- | --- | --- | --- |
| Adult 18-59 | $30 | $57 | $82 | $325 |
| Senior 60-69 | $23 | $43 | $61 | $240 |
| Super Senior 70+ | $15 | $27 | $37 | $75 |
| Junior 13-17 | $23 | $43 | $61 | $75 |
| Child 9-12 | $15 | $27 | $37 | $75 |
| Child 8 and under | $5 | $10 | $15 | $10 |
Bear Valley Cross County Ski Lessons for 2018-2019
Lesson
Cost
*Includes lesson, trail pass, and equipment rental.
Introduction to Cross Country Skiing Package*
$68
Child 9 - 12
$42
Introduction to Ski Skating Package*
$78
Child 9 - 12
$53
Group Lesson (no trail pass)
$35
Private Lesson per Hour
$60
Skiing Bears 4 - 8**
$42
Cross Country ski lessons begin at 10:30 AM and 1:30 PM. Skate Ski Lessons on weekends and holidays at 10:30 AM or by arrangement.
Skiing Bears is offered on weekends only at 10:30 AM.
Bear Valley Cross Country Ski, Snowshoe, and Sled Rental Prices for 2018-2019
Equipment
1 Day
2 Day
Packages includes skis, boots, and poles. *A pulk sled is a lightweight supply sled designed to be pulled by a cross country skier. Some people use them to carry small children.
Adult Striding
$25
$48
Child Striding 12 and Under
$15
$28
Skate Ski
$30
$58
Snowshoes
$12
$42
Pulk Sled* (by reservation)
$25
$48
Demo Ski Upgrade - add to pkg.
$10
NA
Sleds
$14 per person, for 2-hour session
Tubes
$16 per person, for 2-hour session
Ebbetts Pass Sporting Goods Equipment Rentals
925 Highway 4, Arnold (209) 795-1686 Open Monday through Saturday 8:30 AM to 5:00 PM. Sundays 9:00 AM to 3:00 PM.
You may pick up snowshoes after 3:30 PM for next day use. 7-Day rental rates available.
Ebbetts Pass Sporting Goods
Snowshoe Rental Prices 2018-19
Rental Equipment
Full Day
Additional Days
Prices subject to change.
Snowshoes
$12
$10
Snow clothing
$6
Sleds or snow toys
$7
Disc
$6
Break Your Own Cross Country Trail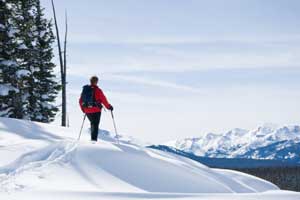 With so many logging roads leading off Highway 4, it is easy to find a pristine route for your party to explore. There's nothing to match the quiet and beauty of the forest in winter. Below are a few suggested places, some where others have gone before you, others you will likely find untouched since the last snowfall.
Calaveras Big Trees State Park
Exploring the North Grove on cross country skis or snowshoes is a wonderful experience. The beauty of the giant Sequoias in winter draws many others, but if you go early or on a weekday, you may find you have the woods to yourself. Besides the North Grove, there is a 3.5 mile cross country ski trail that loops up to the scenic overlook and back. See Calaveras Big Trees State Park Winter Trails Map.
Forest Road 6N58
No signs mark the turnoff to the road, but it is the beginning of several great cross country ski routes, some mostly level, others with gentle hills. To find this spot drive 2.8 miles east from Camp Connell (or 1 mile east of Meko Dr.) to an intersection with forest roads on either side of the highway.
Park in a plowed out area on either side. Road 6N58 is on the north side. After 100 yards you reach a T intersection. Go right (northeast) for a nice, fairly level route that parallels the highway for .8 miles. The road divides there. Take the uphill route to the left all the way to the top of the old Cottage Springs Ski Area (another 1.5 miles).
Going left (west) at the T intersection near where your car is parked will take you along road 5N58 up a long, climbing route through the forest that goes forever. It's a great downhill run back. Or for an optiion, stay on the road that parallels the highway heading west. It goes for miles, some of it downhill, with connecting roads back to the highway near Meko Drive.
Across the highway on the south side is a similar pair of roads. Follow the road south 100 yards and then choose left or right. Right (west) works its way downhill toward Sourgrass. Left (east) is almost level (gentle hills) all the way to the edge of the great mud slide of 1997 (1 mile). There the road ends abruptly.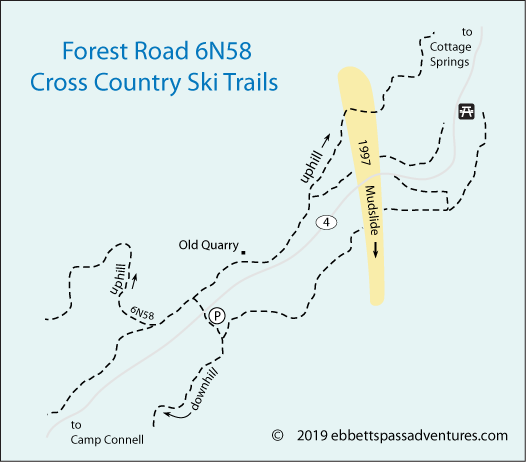 Black Springs, Poison Springs, Cabbage Patch
All of these areas are launching spots onto unplowed dirt or gravel roads that lead into the back country north of Highway 4. Parking is often the key. You must be able to park completely off the pavement. After recent heavy snows, the turnouts are likely not available, but if you give the plows a day or two, they will open up places where you can get off the road.
Grover Hot Springs State Park
On the east side of Ebbetts Pass, Grover Hot Springs State Park is a great area for cross country skiing and snowshoeing. The hot springs pool is open during the winter for a good soak after a morning ski.
Cross Country Skiing on Sonora Pass and Carson Pass
Sonora Pass

Should you be looking for even more Nordic trails, you might head south to Sonora Pass where cross country skiers enjoy trails around Dodge Ridge. All the information is on Sonora Pass Vacations.
Carson Pass

If you look to the north on Carson Pass, you'll find some wonderful ski areas leading out from the four Sno-Parks found along the pass. For maps of the areas, see Up and Over Carson Pass.